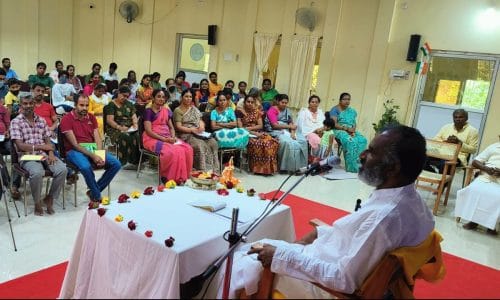 Established in September 2010, The Karpagadaru Trust aims to spread life-changing inner transformation in people and lead them to the knowledge of the Ultimate Truth and existence with very simple practices. The non-profit organisation was founded by Gnana Gurunathar Shree L.L.S Manikghandan, a disciple of Vethathri Maharishi, with the blessings of Sadhus from Thiruvannamalai. Building on Gnana Gurunathar  vision and service, the Trust is growing noticeably and contributing to global changes. The Trust is dedicated to education and charitable activities to spread peace, happiness and harmony. The Trust offers tutelage in multiple locations, including Vellore, Wallajahpet, Valparai, Salem, Madurai, Coimbatore, Tiruppur, Gurunathapuram and Chennai.
As mentioned in the ancient scripts, 'Karpagadaru' is a wish-fulfilling divine tree. As the name suggests, Karpagadaru Trust reaches out to earnest seekers and leads them to the path of enlightenment. The Trust aims for peace, spiritual upliftment, physical well-being and environmental preservation. Whilst the concepts are drawn from ancient Hindu traditions, practices and philosophies, the Trust focuses on developing our lifestyle and sense of self without promoting religion and its beliefs. Our global program creates a curious community aiming for peace and happiness and benefits people of all ages. Personalised programs allow individuals to immerse themselves in nature in their own spectacular way. Our volunteers serve society with gratitude, following the motto "Serve Without Expecting to Be Served" under the diligent guidance of our beloved 'Ayya'.
To create a peaceful world through individuals transformation by spreading knowledge of the Ultimate Truth and unconditional love.
To provide wisdom to all individuals by taking them through the journey of spiritual growth and inner transformation and motivate them to promote happiness around the world.
Achieving world peace through love and understanding.
To identify the people in need and fulfil their basic necessities such as food, clothing, etc..
Alleviating disease and suffering by offering medical assistance.
Supporting the needs of deserving students and promoting their education.
Preserving mother earth for posterity through various environmental activities. Encourage people to make positive contributions to this world and the environment.