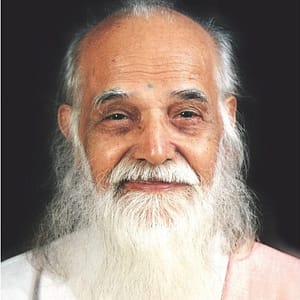 Vethathri Maharishi
Kanaga K.G.Swamy
Guru Parampara
Sri Ramakrishna Paramahamsa, a great Indian saint who was an embodiment of knowledge, devotion, love and compassion for all being, whose spiritual concepts were very simple and whose legacy had been carried through Ramakrishna Mission by his prominent disciple Swami Vivekananda. Gnana Gurunathar Shree Lakshmanaleela Sukumaran Pillai Manikghantan (LLSM), founder and Master of Karpagadaru trust, from his childhood days was attracted towards Ramakrishna paramahamsar for his simplicity.
At that tender age, though Shree LLSM doesn't know the concept of Guru and God, in his heart Sri Ramakrishna took his place of a Master. Shree LLSM followed his master's footsteps and wanted to be with God. In his childhood days he playfully made clay idols of god's and worshipped them secretly in his mind. In his very early days, his path was set to Bakthi yoga margam with the guidance of Sri Ramakrishna Paramahamsa.
As time went by, in his early adulthood days, Shree LLSM realised the role of Guru to guide him to the right path into the spiritual world. At this time, he randomly came across with a note in a local newspaper article that attracted his attention which quoted to seek Yogi Ramsuratkumar, also known as "Visiri Samigal", guidance if one is looking for Guru or Master. Yogi Ramsuratkumar (1 December 1918 – 20 February 2001) spent most of his post-enlightenment period in Thiruvannamalai, a small town in Tamil Nadu and attracted spiritual seekers worldwide and had continuous lineage of enlightened souls. Shree LLSM took this as universal sign and with his full heart he reached out to Yogi Ramsurathkumar. The very next day Shree LLSM was introduced to Vethathiri Mahirishi from where his path to Gnana yoga margam began.
Vethathiri Mahirishi (14 August 1911 – 28 March 2006), known as a great master of modern age, who was in search of knowledge to find answers to 'What is God?', 'What is life?' then simplified universal philosophy and life philosophy to the world. He showed the world that the spiritual life is for everyone and anyone can realise God. Under his tutelage, Shree LLSM received the higher knowledge about universe, existence, body, mind, soul and God which ignited his desire to take Mahirishi's simple philosophy to the rest of the world. Shree LLSM's desire to the service started with Mahirishi and his supreme guidance.
Satguru T.K.Subramnaiyam
Kanakanpatti Moottai Swamy
Shree LLSM till date continue to practice some of his Master's best qualities that he admired such as hard-working nature and punctuality. Shree Kanaga Sami, one of the 13 disciples of Mahirishi, from who Shree LLSM has received Dhuriya Dheeksha. Mahirish then sent Shree LLSM to TK Subramaniam for further tutelage.
Meeting with TK Subramaniam was very significant milestone in Shree LLSM journey. TK Subramaniam is very simple soul who never wanted to identify himself to the world have embraced and took him in as his disciple. During his days with TK Subramaniam, he experienced changes in his body, mind and soul. TK Subramaniam who had announced the world that Shree LLSM is enlightened soul blessed with great Rishis and enlightened souls.
During this time, Shree LLSM also been blessed with the kindness of Kanakkanpatti Sidhdhar, also known as 'Moottai Samy'. Kanakkanpattiar generally not socialize with others,has his own way to the world around him. He embraced Shree LLSM with kindness and often call him for errands. Shree LLSM often found himself drawn to the yogi and stayed with him for days. It is upon Kanakkanpattiar's words that Shree LLSM built Temple of wisdom and Sree Gnanasai baba temple for world peace in Gurunathapuram.
Shree LLSM has a very strong lineage from supreme masters, yogis and enlightened souls. His simple motto is to build the peaceful world by individual's peace, taking his Master's footsteps. Shree LLSM has dedicated his life to take his masters dream to as many as possible and his every single day is planned around this single goal. As the earning member of his family, he understands the life of a responsible and hardworking husband and a father & a common household. Hence he further simplifies the practices for any commoner to follow and enjoy the nectar of spirituality while being in the busy family life.
Life is simple if we understand the secret of existence of universe and true reason for human life. This true knowledge of enlightenment will lead one to self-realisation and peace. Anyone seeking this true knowledge will be shown the right path under the direct tutelage of Shree LLSM.
Anyone who wish to join this true path of realization, all are welcome to join the Atman(Art of transformation ) classes held by Shree LLSM.is for everyone and anyone can realise God. Under his tutelage, Shree LLSM received the higher knowledge about universe, existence, body, mind, soul and God which ignited his desire to take Mahirishi's simple philosophy to the rest of the world. Shree LLSM's desire to the service started with Mahirishi and his supreme guidance.
Our Founder and Beloved Guru
For more than three decades, Gnana Gurunathar Shree Lakshmanaleela Sukumaran Pillai Manikghantan (LLSM), fondly known as 'Ayya', has been empowering and transforming millions of lives around the globe with his grace, yogic practices, meditation and spiritual and social activities initiatives. Shree LLSM's programs and techniques helped people overcome their stress in everyday life and, more importantly, help them to breakthrough Inner well-being, Happiness, Love, Success and attain holistic bliss.
"Peace in this world should be everlasting, and the spiritual power needs to be enriched always", – says Gnana Gurunathar Shree LLSM, global humanitarian and spiritual leader.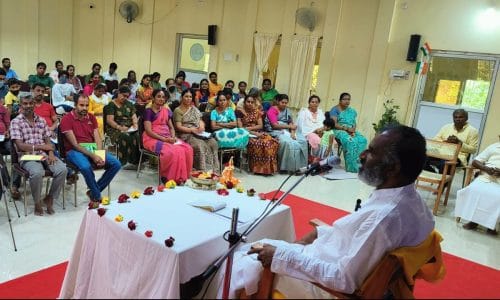 Message from Gnana Gurunathar Shree LLSM
Beloveds, Pranam. With the grace of God and with the blessings of all the Guru's, I have great pleasure in reaching out to you. I wish to share my experiences of my spiritual life. I am a member of the Karpagadaru trust, a non-religious organization, initiated by Sadhus for a good cause.
Apart from serving the society, The main aim of the trust is 'Adyatma Vidya', as the name suggests, is nothing but ATHMAN, the self-knowledge. By educating one's existence and true belonging in the universe and universal phenomena, one can find peace, bliss and the true meaning of life. This can be experienced in everyday life by practicing simple meditation and yoga sadhanas that fits into our busy lifestyle. There are many members in this trust, who have attained a higher level without compromising their common life. If you are seeking to experience the breakthroughs in inner wellbeing, happiness, success and holistic blissfulness, let me guide you to the path of inner transformation.
Dedication
Gnana Gurunathar is dedicated to uplifting the humanity in all aspects of life guiding physical, mental and spiritual wellbeing. His daily duty to the humanity starts at 5am with online classes to the seekers. He is gifted with utter clarity of existence and delivering messages in very simple words. This very powerful combination fascinates all those he encounters. His tireless discourses are powerful reminders to us as to how we are part of nature and why we should allow ourselves to connect with nature.
An Author, Speaker
Renowned speaker, well known for his unique interpretation of Thriuvalluvar's Thirukural, Bharathiyar kavithaigal and other literature scripts in the light of Gnana margam. His ability to decrypt the complex scripts of saints and Gnanis in simple words is astonishing that enables the higher knowledge reach to even simple common man. He has published several books and the recent publication 'Anbu Pezhai' is a gem of his collections. He touches millions of hearts by his simple words, practical approach and everyday examples that makes even higher science of universe and existence reachable to everyone.
An Enlightened Mind
Thirst for wisdom led him to get connected with Guru Vethathiri Maharishi's under the guidance of Visiri swamigal. In this quest for wisdom, Professor KMK Kasi chettiar, KG Swamiji's tutelage lead him into a completely different path of realisation and to a place of love. Soon after he got connected to numerous Siddhas and both directly and indirectly and was able to understand several facts through intuition. Although there was an age limit to become a professor, Vendanthri Maharishi, relaxed the age limit for Ayya, he was awarded as a professor and do seva at a really young age. In the words of Swamiji about Ayya – "when he talks, he speaks with great influence and the words come out like droplets of pearls".
Another recollection by Ayya is once he was having tea with Swamiji, he mentioned – "you will get a chance to talk about the mind soon and you will speak well".
Journey of Gnana Gurunathar
Ananthamey Jayam, Ellam Kaikoodum
Beloved Gnana Gurunathar LLS Manikghandan Ayya was born on 08.07.1966 to Thiru. L. Sugumaran avargal and Thirumathi. S. Leelavathi avargal in a beautifully located coastal town of Manavalakurichi in Kanyakumari District, Tamil Nadu. The village is not far from the renowned Thiruvanthapuram, the capital city of Kerala.
His sister is Thirumathi.L.L.S.Jayanthi avargal, he also had a brother named Thiru.L.L.S.Gopinath who departed this world in very young age. He is married to Thirumathi.M.Jayasri amma who has been very supportive of ayya in all aspects of his life till date. Ayya worked and lived in remote forest area which has its own challenges and hardship. Despite these challenges Jayasri amma who is very strong and brave stood by Ayya's side as pillar and managed everything came along the way very effectively. Annadhanam is very close to Jayasri amma's heart and she continue to serve alongside Ayya.
Ayya grew up in Sayalgudi, a small town in Ramanathapuram district of Tamil Nadu. In his early childhood Ayya is blessed by Thiru.Balasubramaniam's nurturing with love and affection. Ayya studied till 9th standard at Arasu High School in a small village of Sikkal where his father worked as a teacher. Right from his childhood Ayya has always been drawn to spiritual life. He is very fond of visiting temple construction sites to do errands and spend time as a result, often he would get in to trouble for being late to school or skipping classes. After school he would spend his evenings hanging around in temples and enjoy being there until his father came searching for him to take him home.  
 Even though he was in the path of Bhakthi from a very young age, somehow he was diverted and went through the pathway of fortune telling. Eventually he realised that he needed a Guru to impart Wisdom (Gnana Valkai) and knowledge. This thirst for wisdom led him to get connected with Guru Vethathri Maharishi under the guidance of Visiri swamigal.
He has also had the privilege of receiving the blessings of Kanakampatti Mootai Swamigal and upon his direct order, he inaugurated Shri Sai temple in Gurunathapuram. Although he neither had the money or resources to commence this project, as per his words "Swamiji asked me to do it and I did it". Further, Ayya talks about his other MASTERs, they said that "I will receive the power to understand future. They said I will have all the sources to help everyone". Ayya considers all these experiences as guidance from his Masters and droplets of wisdom and knowledge imparted by his Masters leading him to a direction of Wisdom and self realization.
Mother Leela Sukumaran
Gnana Gurunathar with Family