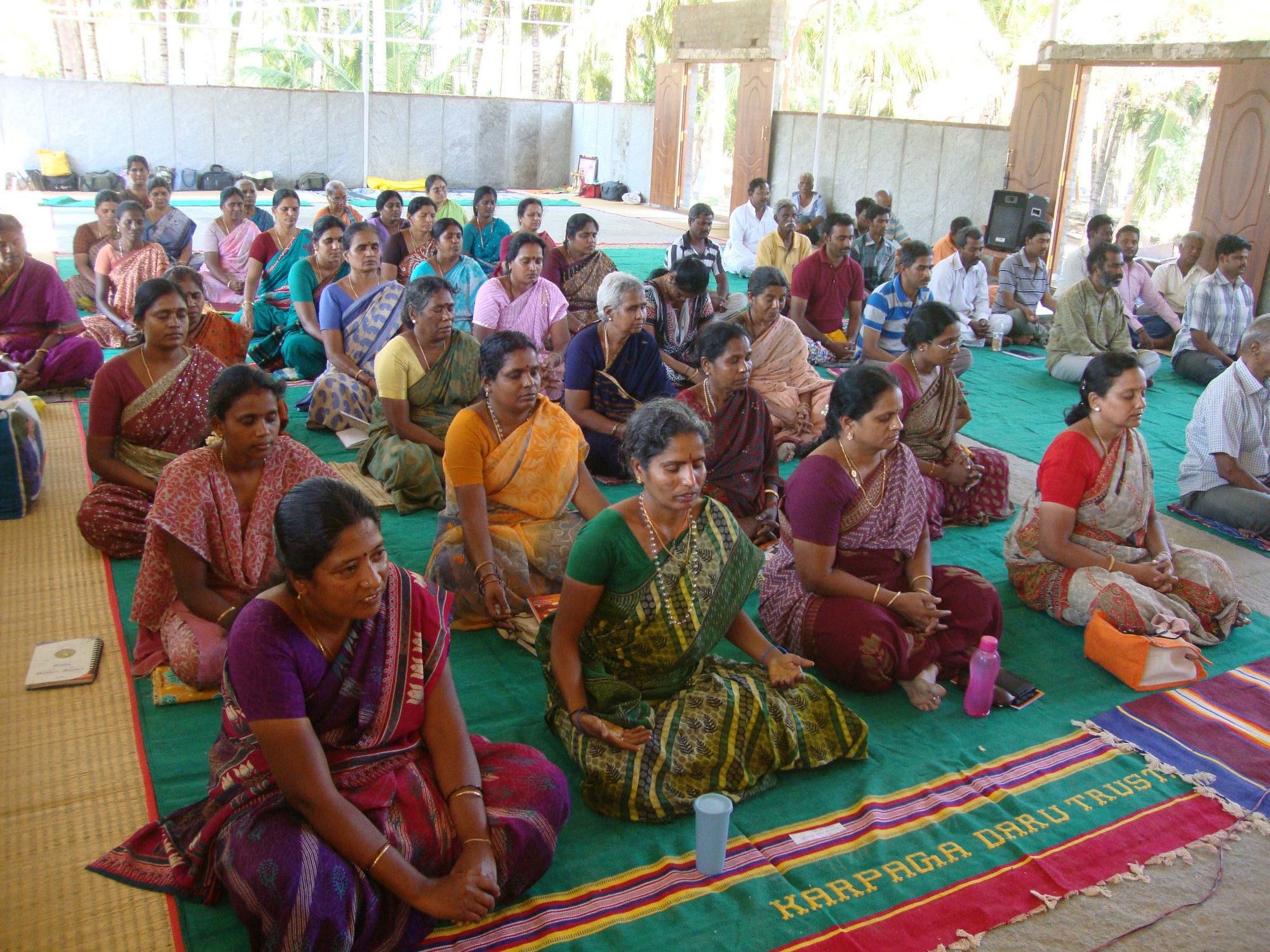 Maargadarshakaa – Visualizing pathways
This program is a 24×7 helpline to offer spiritual support to those who are anguished by health or personal problems. The underlying dictum is to encourage faith in the Supreme power. Through practice, it is evident that prayers work miracles in curing disease and relieving problems. Spiritual people come together and pray as per the requests received from the public.
Dhanvanthri - Health is Wealth
Free medical camps and health awareness programs are organized regularly for those afflicted with ailments. At Karpagadaru, we promote all forms of medicine i.e., allopathy, homeopathy, siddha,naturopathy, varmam and flower-based remedies. Experts in various fields are deployed to address various needs.
Anna – Food
Our volunteers have been actively looking for those who are in need, such as orphans and elderly people, and raising funds to provide them with food, especially on festive occasions, birthdays and wedding anniversaries.
Vriksham - Afforestation
This is the most noble project aimed at greening the planet. We have planted over 4,000 saplings in several places and are being nurtured continuously by the volunteers. Our volunteers have undertaken a massive program to plant the rare tree – 'Karpooravilvam', which is considered as a sacred tree. We conduct awareness programs to spread the virtues of afforestation at large.
Parsparakriya - Public Relations
The activities of the Trust are promoted with the only intention of encouraging and motivating people to participate in charitable activities to foster economic growth. In addition, several audio and video CDs are distributed to share information to the wider group. We also distribute leaflets and flyers on various topics such as chemical hazards, pollution and so on.
Shree Maharishi Library
This chapter contains many self-motivational books written by great masters. Books for harmony and peace by various authors are also available. Those who are interested in donating books relating to spirituality and self-motivation are welcomed. Books may be sent by registered post to the secretary.
Adhyatma Vidhyaa - Spiritual Education
It features a holistic yoga program called GURUMANTRA Yoga (GMY), which aims at inculcating time-tested values i.e., love, compassion, divinity and pure ecstasy which brings out the inner calm of your consciousness. Special summer camps are being conducted every year for children to develop strong values at a very young age. The program radically changes the perception of an individual towards his/her fellow-beings and builds a feeling of oneness, civility and empathy with others.
Children Empowerment Program
This two-day program is designed especially for children to recognise their strength and focus on building resilience and empowerment, which enables them to bounce back from whatever life throws their way. 
This program involves a number of fun-filled activities to enrich their experience, build confidence and self-esteem. We also teach basic yoga and meditation for their physical and mental health and wellbeing.