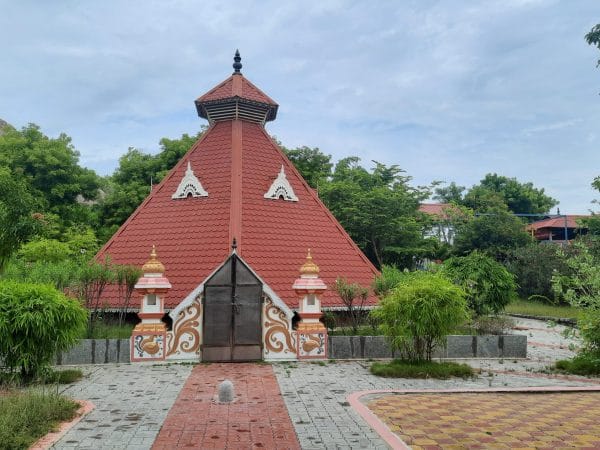 Monalayam - Abode of Silence
Silence is one of the self-realization techniques to introspect and correct ourselves to live a healthier, peaceful and blissful life everyday. This is an ecclesiastical satsang". The consecration of MONALYAM, which stands for 'SILENCE' was guided by the astral voices of many sages. With the grace of God and blessings of sages, the foundation was laid on 23rd of November 2012 and construction was completed on 28th of January 2016. The structure of this building resembles a pyramid and symbolises the core of 'Temple of Wisdom'. It gives the power and strength to visualize world peace.
The infrastructure of Monalayam is 108 feet by 108 feet and the campus is surrounded by very rare species of plants and trees, which is named as 'Star forest'. The access to Monalayam is restricted for mediation. Here, we practice 'Thradakam'( an yogic technique using a lamp) to enlighten the astral power within us. People who visit this centre normally experience the blessings and protection of sages and when they meditate inside Monalayam, they become healthier, wealthier and eventually be freed from all their worries.
Temple of Wisdom
Temple of Wisdom is the sanctum sanctorum of the Karpagadaru Trust located in Gurunathapuam village of Vellore district , Tamilnadu, India. It is situated in the foothills of Gurunathapuran hamlet, where many sages are known to have meditated and helped humans attain wisdom.
Wisdom by itself is true consciousness.  Consciousness is inherent by nature in every species of life but only humans have the power to understand the higher consciousness and dwell in the abode of truth. From the time immemorial, our saints and sages have undergone penance to attain this wisdom.
By nature, all living beings give birth, live their life and die but only mankind is blessed to realize the inner truth through his sixth sense. In other words, man is born to attain wisdom and enjoy the blissful state (NIRVANA). Attaining wisdom by attuning one's life is the primary goal of a human being and for this reason, Yogic practices are promulgated.
An abode of serene natural beauty, love, tranquility and a meditative sphere, the prime motto of Temple of Wisdom is to achieve WORLD PEACE. With the guidance of thy Master, members of the karpagadaru trust perceive self realization through Yoga and meditation to promote peace. They serve mankind by chanting the world peace mantra "Let the world attain peace & inner strength be raised high."
The foundation of the temple of wisdom was laid on an auspicious day, 30th of August 2012 by the founder and chairperson Gnana Guru Sree L.L.S.Manikghantan along with his wife Yogi. Jayasri amma in the presence of devotees.
People visiting this Temple of wisdom, be it meditators or non-meditators find themselves free of worldly constraints and experience peace and blessings of sages dwelling there.
We welcome you to join our hands to enjoy the joy and bliss. Let us all encourage each other and work towards world peace.